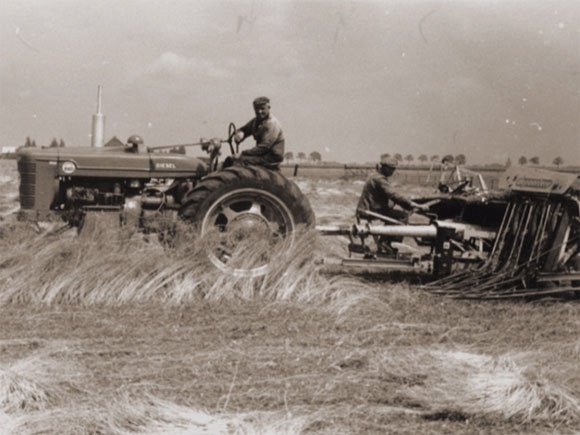 History
Jan Hack founded the company in 1933 and carried out small jobs like cutting grass and working with his machine.
Building machines
In the early 80s the construction of the SK24P started. This machine was designed to place small bales of hay on a stack of 24. There were about a hundred stack carts built. These were not only used in the Netherlands but also exported to England, Belgium and Germany. The construction of these machines was completed in the empty hours, the period between the sowing and harvesting of crops.
In 1990 the first New Beat was designed and produced. At first for our own use, but in 1991 there was another series of two machines built to sell. This created the link with Ploeger Machines and the foundation for Hack Harvest was established. Years later we built the New-Beat 2 for in company use only. Which is still used to harvest throughout the seasons.
All year round internationally
Over time, the contracting company has grown in size, activities and machines. In 1996 we got a opportunity to harvest peas in Spain, an opportunity we seized without hesitation. grabbed with both hands. The first year one machine was send to Spain, currently over 20 machines are used. The combination of the contract work and the preserves fills our year with activities. When the harvest is done, we start with the maintenance of our machines. In order to be able to work in the fields from March to December in the Netherlands and abroad.